Lost in Love Teasers -october 2022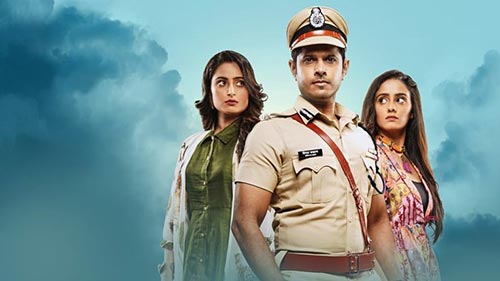 we are pleased to inform you about Lost in Love Teaser October 2022
Thursday 1 September 2022
Episode 276
Samrat refuses his relationship with Virat by blaming him for betrayal. Later, he announces to divorce Pakhi to free her from all the unwanted bonding.
Episode 277
The Chavan's ask Pakhi to change her separation decision. Meanwhile, Samrat questions Sai about her feelings for Virat.
Friday 2 September 2022
Episode 278
After Samrat agrees to talk with Pakhi at Sai's insistence, Virat informs them about his transfer. Samrat predicts the reason behind Virat's transfer.
Episode 279
Pakhi refuses to beg for another chance and stop the divorce during her private conversation with Samrat. Elsewhere, Virat and Sai feel some coldness in their relationship.
Saturday 3 September 2022
Episode 280
Samrat asks Pakhi to forget the past and make a fresh start. Later, a distressed Virat avoids Sai.
Episode 281
An intoxicated Samrat avoids conversing with Virat about the past. Later, Sai tends to Virat as she is worried about his health.
Sunday 4 September 2022
Episode 282
Sai's concern for Virat makes him uncomfortable. Later, he agrees when Pakhi asks him to meet her at a coffee shop.
Episode 283
The Chavans ask Samrat to change his mind and give Pakhi a second chance. Elsewhere, hurt by Virat's behaviour, Sai has a breakdown.
---
Monday 5 September 2022
Episode 284
At the cafe, Virat recommends Pakhi give Samrat a second chance and shares about his feelings for Sai. Meanwhile, Sai meets Pulkit in college.
Episode 285
Virat tells Pakhi that he is not interested in her. As they discuss their fate, Sai spots them holding each other's hands.
Tuesday 6 September 2022
Episode 286
Shivani questions Sai as she shares her anguish on seeing Virat and Pakhi together. Later, Virat decides to inform the Chavans about his meeting with Pakhi.
Episode 287
Virat clears the misunderstanding about his meeting with Pakhi to the Chavans. Later, he urges Samrat to stay home and reconcile with Pakhi.
Wednesday 7 September 2022
Episode 288
Sai demands answers from Virat about his meeting with Pakhi. On the other hand, Pakhi urges Samrat to give another chance to their relationship.
Episode 289
Samrat demands answers from Pakhi for intending to reunite with him. While she tries to prove her loyalty towards him, Sai gives assurance to Mansi.
Thursday 8 September 2022
Episode 290
Pakhi is elated as Samrat agrees to give their marriage another chance. While the family is excited about it, Virat informs them about his transfer.
Episode 291
As Virat prepares to leave the Chavan mansion, Sai makes an appeal to the senior officer. Later, the Chavans are astounded by Virat's decision.
Friday 9 September 2022
Episode 292
Ashwini talks about Pakhi and Sai's contribution to the Puja. Later, Virat asks Sai about the cancellation of his transfer and suspects her involvement in it.
Episode 293
The Chavans celebrate Janmashtami Puja while Sai sings a devotional song. Virat and Samrat agree to become Govinda to perform the rituals together.
Saturday 10 September 2022
Episode 294
Pakhi and Sai bet on their respective husbands, Samrat and Virat to win the competition during rituals. Later, Virat stops Samrat from falling and rescues his life.
Episode 295
Virat gets annoyed after learning that Sai stopped his transfer. However, Samrat takes a stand for Sai and justifies her act.
Sunday 11 September 2022
Episode 296
When Pakhi pretends to be a nice person before Virat, Sai calls her out. Meanwhile, a cornered Pakhi instigates Virat against Sai.
Episode 297
As Virat is about to go to Samrat's room, Sai reminds him about Pakhi's deeds and their repercussions. Later, Virat tells Sai why the Chavans like Pakhi more than her.
---
Monday 12 September 2022
Episode 298
Samrat talks sharply to Pakhi as he gets compared to Virat. The family is shocked while Virat informs them about his act of locking Sai in a room.
Episode 299
Pakhi gets praised for her looks. While she decides to start her life afresh, Sai discusses her request for a college transfer with Pulkit.
Tuesday 13 September 2022
Episode 300
Sai expresses her emotions to Pulkit in college. On the other hand, an infuriated Samart confronts Virat for locking Sai in the room.
Episode 301
The Chavans are taken aback as Sai is missing from the room. Later, Pakhi strikes a hazardous idea to check Virat's concern for her.
Wednesday 14 September 2022
Episode 302
While Sai returns to the Chavan mansion with Pulkit, Samrat confronts Pakhi for her hatred towards the former. Later, Pakhi comes to an unexpected conclusion.
Episode 303
Pakhi chooses to give her relationship with Samrat a second chance. On the other hand, Sai's immature behaviour enrages Virat.
Thursday 15 September 2022
Episode 304
At sunrise, Pakhi interferes between Virat and Sai's personal problems, irking them. Later, Sai makes a financial demand on Virat.
Episode 305
The Chavans praise Pakhi for preparing a tasty breakfast. Later, the family reprimands Sai for getting involved in Virat's transfer case.
Friday 16 September 2022
Episode 306
The Chavans prepare for Ganpati Puja while Sai decides to think about her transfer. The family enjoys the festivities followed by Virat's performance.
Saturday 17 September 2022
Episode 307
Sai asks Devyani to keep the matter of her leaving the house a secret. Later, she fixes her mind to take a major decision to bring some change in her life.
Episode 308
Sai shares her sorrow with Pulkit and talks about her association with the Chavans. Later, Devyani reveals Sai's secret to Virat.
Sunday 18 September 2022
Episode 309
Sai feels guilty for not informing Ashwini about her plan to leave the house. On the other hand, Devyani gets upset as Virat refuses to reconcile with Sai.
Episode 310
Pakhi suggests Sai and Virat join her on a trip to Mahabaleshwar with Samrat and the entire family. However, the conversation snowballs into an argument.
---
Monday 19 September 2022
Episode 311
Sai wakes up early to hide her luggage in the garden so that she can leave when she gets a chance. Meanwhile, the Chavans are busy celebrating Ganesh Chaturthi.
Episode 312
As Sai recalls her early memories with Virat before leaving, he acts indifferently. The love and affection from the Chavans makes Sai emotional when she leaves.
Tuesday 20 September 2022
Episode 313
Virat stays unsurprised when the Chavans learn about Sai's departure. Meanwhile, Sai's collegemates rescue and hospitalise her.
Episode 314
Samrat claims that by doing nothing to stop Sai, Virat is responsible for her departure from the house. Elsewhere, Sai undergoes surgery at the hospital.
Wednesday 21 September 2022
Episode 315
An angry Virat lashes out about how Sai disrespected him. Later, he is shocked to learn that she is in critical condition.
Episode 316
Virat feels guilty as he gets blamed for Sai's critical condition. While Ashwini urges him against leaving Sai, Pakhi lends her support to him.
Thursday 22 September 2022
Episode 317
An emotional Virat holds Pakhi's hands and urges her to pray for Sai, but Samrat misunderstands them. Can Virat clear his name?
Episode 318
Pulkit explains that Sai is in urgent need of blood and that her blood group is unavailable in the nearest banks. Will Virat manage to find it?
Friday 23 September 2022
Episode 319
Virat makes a tough decision to avoid meeting Sai against her wish. However, Ashwini tries to convince him otherwise. Will Virat listen to her request?
Episode 320
While Devi and Sunny grow emotional over Sai's condition, Virat keeps his hope for her recovery. Elsewhere, Bhavani informs about the special rituals she practiced for Sai.
Saturday 24 September 2022
Episode 321
Sai cries as Virat holds her hands with love and care. An emotional Ninad shares his realisation of Sai's value when he sees the harmonium.
Episode 322
The Chavans are happy to see Virat taking care of Sai. Later, Pulkit informs them not to upset Sai and act accordingly for her speedy recovery.
Sunday 25 September 2022
Episode 323
As Virat tends to Sai and takes good care of her, the family watches them get close. When Pakhi walks in and disrupts their moment, she is asked to leave.
Episode 324
As Pakhi visits Sai in the hospital, an adamant Virat acts rudely with her. Later, he dreams of Sai recovering.
---
Monday 26 September 2022
Episode 325
On the doctor's insistence, Sai closes her eyes and gets a clear glimpse of her loved ones. While Samrat questions Pakhi, she thinks Virat is jealous of her married life.
Episode 326
Samrat tells Pakhi that he knows how she feels about Virat and that he has only accepted her because of him. On the other hand, Virat offers a choice to Sai.
Tuesday 27 September 2022
Episode 327
The Chavans are pleased after learning about Sai's discharge from the hospital. Elsewhere, Sai wishes to head back to Gadchiroli.
Episode 328
During the Visarjan preparations, Mohit returns to the Chavan mansion. Elsewhere, Virat rushes to save Sai from meeting with a severe accident.
Wednesday 28 September 2022
Episode 329
The Chavans are surprised to learn about Bhavani's plan to cook for Sai while Pakhi and Sonali object to it. Later, Sai receives a warm welcome upon her return.
Episode 330
Ashwini declares that Virat and Sai will no longer share a room while Devyani and Bhavani raise their objections. Further, Ashwini explains the reason behind it.
Thursday 29 September 2022
Episode 331
Bhavani is shocked to learn from Pakhi that Virat and Sai used to sleep in separate beds. She punishes Sonali for her hurtful comment against Sai.
Episode 332
Bhavani saves Sai from falling when Sonali pushes her and berates her. The Chavans stand by Sai when Sonali calls her an orphan.
Friday 30 September 2022
Episode 333
Bhavani asks Sai to serve the Prasad to the Brahmins while Pakhi feels insecure about losing her importance in the family. Later, Sai comes to meet Virat.
Episode 334
Pakhi insults Sai when she finds her in Virat's room but he defends her. Ashwini comments that Sai and Virat should redo their relationship.
---
Premiere episodes of Lost in Love air on Star Life from Mondays to Sundays at 19h00.