My Desire Teasers April 2023 – Latest Episode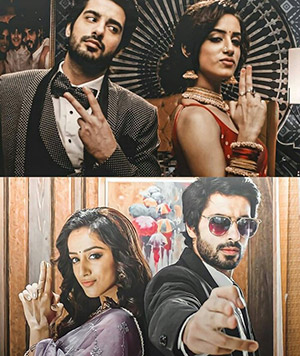 We are pleased to inform you about  My Desire Teasers April 2023 – Latest Episode
Wednesday 1 March 2023
Episode 529
Mukhiya's goons come to Preesha's house and create a rampage. Witnessing the same, Rudraksh beats up the goons.
Episode 530
Preesha rudely asks Raj to go away from her and Roohi's life, and not to show his face again. On her way back home, Roohi gets kidnapped by Mukhiya's men .
Thursday 2 March  2023
Episode 531
Raj saves Roohi from the kidnappers and she too likes his company. Later, Roohi asks Rudraksh to find a way to patch up things between her mom and Raj.
Episode 532
Roohi takes Preesha to meet Yuvraj privately. On the other hand, Rudraksh becomes Santa Claus and plays games with the children.
Friday 3 March 2023
Episode 533
Rudraksh entertains the children with some fun activities. Elsewhere, a desperate Yuvraj puts forth an appeal in front of Preesha. Will she accept it?
Episode 534
Preesha is taken aback after encountering Rudraksh at the Christmas party. Later, Bunty meets Rudraksh with a huge sum of money.
Saturday 4 March 2023
Episode 535
Preesha confronts Yuvraj when he takes credit for paying her rent. Later, Yuvraj gets kidnapped by the notorious goons of the village.
Episode 536
Roohi finds Yuvraj injured and takes him to Preesha for treatment. Later, Yuvraj plans to use Roohi to extort money from Rudraksh and Preesha.
Sunday 5  March 2023
Episode 537
Roohi presents Rudraksh with a unique attire for the New Year's party. Later, Preesha feels insecure as Yuvraj attends the event with someone special.
Episode 538
Preesha scolds Yuvraj for trying to impress her. Meanwhile, Rudraksh disguises himself and escapes narrowly from the goons of the village.
Monday 6 March 2023
Episode 539
Yuvraj saves Roohi from the firecrackers while Preesha takes her home. Later, Yuvraj ties Roohi's hair in a funny manner and sends her to school.
Episode 540
Roohi vents her anger at Rudraksh for his carelessness. Later, Rudraksh takes the help of Bunty and decides to host an event in Rohtak.
Tuesday 7 March 2023
Episode 541
Preesha warns Yuvraj to stay away from her and Roohi's life. On the other hand, Rudraksh performs for the young kids of Rohtak.
Episode 542
While Roohi neglects Yuvraj, Preesha decides to take part in the contest to mint quick money. Later, Bunty surveys the women of Rohtak in search of Preesha.
Wednesday 8 March 2023
Episode 543
While Rudraksh escapes with Roohi, the goons thrash Bunty for holding a contest. Meanwhile, Saaransh and his friends arrive at Rohtak.
Episode 544
Roohi guides Saaransh when he gets lost from his friends. On the other hand, Bunty is filled with joy after meeting Preesha at her clinic!
Thursday 9 March  2023
Episode 545
Bunty lies to Rudraksh about Preesha and requests him to return to the Khurana mansion. On the other hand, Yuvraj is taken aback after spotting Rudraksh!
Episode 546
An emotional Rudraksh writes a letter for Roohi and departs from Rohtak. Meanwhile, Preesha rebukes Yuvraj after he secretly enters her house.
Friday 10 March 2023
Episode 547
Vaijayanti turns suspicious over Bunty while Rudraksh meets Roohi. In the meantime, Preesha meets with an accident at the market.
Episode 548
Rudraksh bids Roohi farewell before leaving Rohtak. However, upon learning about Roohi's mother's accident, he decides to accompany her to the hospital.
Saturday 11 March 2023
Episode 549
While the goons belt Yuvraj, Rudraksh has a narrow escape from the hospital. Later, Rudraksh spends quality time with Roohi and Saachi.
Episode 550
Vaijayanti informs Sharda about Bunty's strange behaviour with her. Meanwhile, Rudraksh plans to stay back and celebrate Lohri with Roohi in Rohtak.
Sunday 12  March 2023
Episode 551
Yuvraj makes Rudraksh unconscious and informs the Mukhiya. Later, Roohi and Rudraksh get trapped inside the burning storeroom.
Episode 552
As Rudraksh breaks open the door and come out with an unconscious Roohi, he sees Preesha. Later, they are rushed to the hospital.
Monday 13 March 2023
Episode 553
Preesha rushes to visit Roohi after she regains consciousness. While Preesha confesses the truth to Rudraksh about Roohi, Vaijayanti arrives.
Episode 554
Preesha gets Roohi discharged from the hospital and leaves discreetly for Shimla. Meanwhile, Rudraksh searches for them after regaining consciousness.
Tuesday 14 March 2023
Episode 555
Bunty confesses the truth to Sharda and Vaijayanti while Rudraksh is over the moon meeting Preesha. However, their happiness is short-lived as Yuvraj arrives!
Episode 556
Preesha informs Rudraksh that Roohi is Yuvraj's daughter. Enraged, he insults her and vows to hate her.
Wednesday 15 March 2023
Episode 557
Roohi longs to meet Rudraksh before he leaves Rohtak. Meanwhile, Preesha lies to Sharda about her feelings for Yuvraj and Rudraksh.
Episode 558
As Preesha searches the house for her, Roohi shows up in the backseat of Rudraksh's car. Later, Roohi and Rudraksh have a great time in the studio.
Thursday 16 March 2023
Episode 559
The police barge into Rudraksh's studio to arrest him at Yuvraj's command. On the other hand, Roohi is hospitalized after meeting with a severe head injury.
Episode 560
Roohi insists on spending the night with Rudraksh and Preesha at the hospital. Later, Rudraksh and Preesha reminisce about their romantic moments together.
Friday 17 March 2023
Episode 561
In an intoxicated state, Yuvraj notices Roohi and Preesha outside the hospital and decides to barge in to catch them redhanded. However, Rudraksh outsmarts him and flees.
Episode 562
Sharda spots Vaijayanti in the hospital and quickly sends her away before seeing Rudraksh. Later, Bunty has an idea to bring Preesha and Rudraksh closer.
Saturday 18 March 2023
Episode 563
Rudraksh and Preesha get into an accident as he gets distracted while driving. Later, they share a romantic moment after being stranded in the forest.
Episode 564
While Preesha falls in a deep mud trench, Rudraksh manages to save her. On the other hand, an anxious Yuvraj tries to call Preesha.
Sunday 19  March 2023
Episode 565
While Preesha and Rudraksh find refuge for the night, an awkward moment brings them closer. Elsewhere, Vaijayanti gets restless after Rudraksh fails to return home.
Episode 566
Rudraksh and Preesha sing for Roohi in order to make her fall asleep quickly. Later, Roohi makes a shocking request to Preesha on their way back to the village.
Monday  20 March 2023
Episode 567
As Preesha faces humiliation from the villagers, an inebriated Rudraksh returns home and reminds Roohi of his love. Elsewhere, Saaransh becomes anxious.
Episode 568
Preesha returns Yuvraj's money before departing from Rohtak. Meanwhile, Saaransh strikes a remarkable idea and shares it with the family lawyer.
Tuesday 21 March 2023
Episode 569
Saaransh seeks Bunty's help and departs for Rohtak to meet Roohi. While the lawyer proposes the scholarship details, Preesha declines the proposal.
Episode 570
Preesha changes her mind by accepting Roohi's scholarship offer and leaves for Delhi. Meanwhile, Yuvraj goes crazy as Preesha and Roohi are missing.
Wednesday 22 March 2023
Episode 571
Preesha and Roohi arrive in Delhi and visit their new house. Meanwhile, Saaransh has a narrow escape when Rudraksh desperately hunts for him.
Episode 572
Roohi sneaks inside the Khurana mansion to meet Rudraksh. After understanding the reality, Rudraksh confronts Preesha in her cabin at the Khurana school.
Thursday 23 March 2023
Episode 573
Rudraksh admires Roohi as she stands her ground in front of the kids at school. Later, Rudraksh is on a mission to unearth a scam at the Khurana school.
Episode 574
Preesha and Rudraksh share some lovely moments with Roohi in the former's house. Eventually, they both highlight the scholarship program issue.
Friday 24 March 2023
Episode 575
After locating Preesha with Rudraksh, Yuvraj concocts a plan to kill the latter. Meanwhile, Preesha and Yuvraj follow a clerk involved in the school scam.
Episode 576
Preesha, Rudraksh and Bunty race against the clock and chase the peon. On the other hand, the children mislead Roohi to the boy's washroom.
Saturday 25 March 2023
Episode 577
Rudraksh and Bunty visit a bank in search of the culprit connected with the Khurana school scholarship scam. Meanwhile, Saaransh senses Preesha around.
Episode 578
Sharda learns about Roohi's admission to the Khurana school. Later, Rudraksh catches Preesha sneaking into the Khurana mansion at midnight.
Sunday 26  March 2023
Episode 579
At midnight, Vaijayanti visits the Shrinivasans and informs them about Preesha's existence. Later, GPS and Vasudha meet Roohi in the school.
Episode 580
While Vasudha tells Preesha to not address her as her mother, Saaransh plans a surprise for Rudraksh. Further, Rudraksh spends quality time with Roohi and Saaransh.
Monday  27 March 2023
Episode 581
Preesha notifies Rudraksh about Bunty's hidden intentions and his connection to the Khurana school scholarship scam. Meanwhile, Bunty hunts for the crucial documents.
Episode 582
A suspicious Preesha questions Bunty for double-crossing Rudraksh. While the police officers attempt to arrest Bunty, he makes an escape.
Tuesday 28 March 2023
Episode 583
Preesha is glad to celebrate Valentine's Day with Rudraksh, while Sharda warns Vaijayanti to behave nicely. Later, Bunty intends to abduct Roohi from school.
Episode 584
Rudraksh gets a hint that Bunty is to abduct Roohi, and he informs Preesha about it. Later, Bunty, posing as the bus driver, gets tensed as his plan flops.
Wednesday 29 March 2023
Episode 585
Rudraksh meets with an accident while he attempts to save the children from Bunty's wrath. Later, Saaransh arrives at the spot with the students' parents.
Episode 586
Rudraksh comes to rescue Preesha and Roohi from the bus, but Bunty's vicious move makes them fall. Later they are sent to the hospital.
Thursday 30 March 2023
Episode 587
While Roohi's life is at stake, Rudraksh orders Yuvraj to rush to the hospital. Later, Bunty makes an astonishing confession to Rudraksh.
Episode 588
Yuvraj's plan goes awry as Rudraksh donates blood and saves Roohi's life. Meanwhile, Bunty breathes a sigh of relief as Bubbles' surgery went well.
Friday 31 March 2023
Episode 589
Rudraksh forgives Bunty and manages to get Preesha arrested. Later, Saaransh creates a fuss in front of the Khuranas as he departs to meet Preesha in prison.
Episode 590
Rudraksh is baffled since Saaransh managed to get Roohi discharged from the hospital. Later, Saaransh takes Roohi to the Khurana mansion.
Note: April 2023 Teasers will be updated soon, kindly save this page. and if you have questions or corrections regarding this post, kindly use the comment box below.